Steve Gamel
27 Reasons Why You Need A Writer
Business owners want to communicate with clients, spark engagement, and build trusting relationships. One of the best ways to do that is with unique and authentic written content.
The problem is that most entrepreneurs don't consider themselves good writers. And even if they are pretty decent with stringing words together to form a coherent sentence, they know deep down that they don't really have the time or desire to do it on their own.
It is much easier to hand everything over to a professional writer.
Here are 27 reasons why you need a writer for your small business:
1. You don't have the time.
2. You don't like to write.
3. You're not a good writer.
4. You can't write consistently.
5. You don't want to.
6. You keep making grammar mistakes.
7. You struggle to write about yourself.
8. You don't know where to start.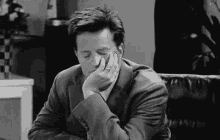 9. You rely on too much jargon.
10. Your brand isn't relevant online.
11. Your vocabulary is poor.
12. Your writing isn't professional.
13. Your staff doesn't like to write, either.
14. You're starting to run out of ideas.
15. Your content needs a creative spark.
16. You prefer to have an extra set of eyes looking at all your written content.
17. Writing is not worth the writer's block.
18. You don't know your audience.
19. You can't use your imagination.
20. You have different content needs.
21. You're not a storyteller.
22. You struggle to get ideas on paper.
23. You struggle writing for online use.
24. Figuring out SEO stresses you out.
25. It takes you way too long.
26. You speak it better than you write it, and there's a big difference.
27. You know an excellent writer, so you might as well use him, right?
Call Edit This for your writing and editing needs


Writing your own content is possible, and we believe in you if you decide to take that step. But if it's not worth your time, or you simply don't want to, then give Edit This® a call. Edit This is a writing and editing services company in Denton, TX that specializes in producing written and error-free copy that explains your passion, promotes your products and services, and helps you stand out.
Our list of services include:
* Website copy
* Blogs
* Ghostwriting
* Press Releases
* Editing
* Newsletters
* Resumes
* And so much more
Whether you need us to write content from scratch or put a better spin on what you've written, we are the local writing and editing partner every business owner needs.
Thanks for reading!
*STEVE GAMEL is the President & Owner of Edit This, a writing and editing services company located in Denton, TX. Steve handles anything involving the written word. Give him a call today to help give your business a clear voice.
#whyyouneedawriter #hireawriter #writingandediting #smallbusiness #EditThis