Steve Gamel
The Many Faces Of A Writer In GIFs
"It's the many faces of a writer." That's the playful and somewhat sarcastic answer I had for my wife the other day when she pointed out that I keep making these weird faces as I write.
"Do you even realize that you're making them?" she asked.
"Umm. No, not really. You're the first to point it out," I said sheepishly.
These are the oddball exchanges between couples when a global pandemic hits, and both of you end up working from home. I'm in my office writing, and she is 10 feet away in the dining room – apparently noticing every little thing I do.
Below is a compilation of GIFs that describe what she's talking about.
Ahhh, yes. The many faces of a writer in GIFs (because I have nothing better to blog about).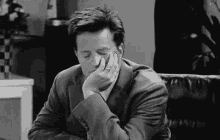 Call Edit This for all your writing and editing needs
Edit This is a writing and editing services company in Denton, TX. We specialize in producing written and error-free copy that explains your passion, promotes your products and services, and helps you stand out. We are versatile enough to create that content from scratch or help spruce up what you've already written.
And we are local! Our writing and editing services cover clients nationwide but are local to anyone in Denton, Corinth, Lake Dallas, Shady Shores, Hickory Creek, Lewisville, Flower Mound, Highland Village, Argyle, and the rest of DFW.
Our list of services include:
* Website copy
* Blogs
* Ghostwriting
* Press Releases
* Editing
* Newsletters
* Resumes
* And so much more
Thanks for reading!
*STEVE GAMEL is the President & Owner of Edit This, a writing and editing services company located in Denton, TX. Steve handles anything involving the written word. Give him a call today to help give your business a clear voice.
#writerfaces #facesofwriters #themanyfacesofawriter #writergifs #EditThis #writer #editor